Why Choose Ferguson Bees
We believe our current stock is superior to any we have ever worked with.
At just age 5 years, Bill Ferguson's aunt took him to watch her look at a hive of bees. Lots of bees – and a few stings! A few years later, after being stung while playing in the grass, Bill decided being stung was not such a big deal after all.
Almost 60 years of beekeeping
While still a high school student, Bill became even more interested in beekeeping. In 1963, together with a friend, Bill bought bee packages from Chester Bee Supplies.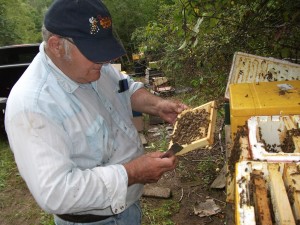 By 1967, Bill was well underway in continuing the legacy of that local apiary.
In 1968, Bill found his Queen bee, "Rosemary", and soon worker bees followed. Now, along with some grand and great-grand baby-bees, Feguson's apiary operation has grown.