Bees are a distinguished part of our farming heritage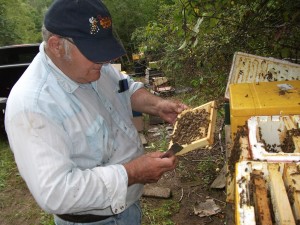 Bill Ferguson, the founder of Ferguson Apiaries, has raised bees in Huron County, Ontario for almost 60 years. Ferguson Apiaries produces Buckfast queen bees and nucs for beekeepers across the United States and Canada.  We believe our current stock of bees is superior to any we have ever worked with.
Ferguson Apiaries honey and wax products are handmade and hand-packed with pride at our location. We offer 100% unpasteurized honey made in small batches to ensure consistent and superior quality.
Discover and enjoy the different honey varieties produced by Ferguson Apiaries' bees. Influenced by Canada's four seasons, we offer naturally created Spring Dandelion honey to beautiful mild Clover honeys of Summer and the distinctive Goldenrod honey of Fall.
Ferguson Apiaries is open year-round. Come for a visit and return home with some of Huron County's bounty!
Hours
Thursday 9am-5pm
Friday 9am-5pm
Saturday 10am-5pm
Covid-19 Note: We accept orders online and by phone. Please call ahead with your credit card information. We will fill your order and place it outside our retail store for curbside pick-up if you wish.    Please use the hand sanitizer  just outside or one just inside.  Please wear a mask. Stay safe.