Buckfast Queens & Stock
Established in Ontario since 1990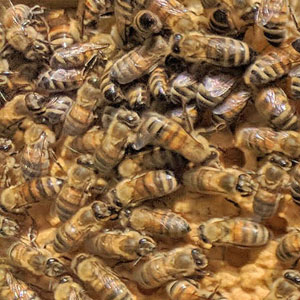 Buckfast Bees originated in England.
In 1919, Brother Adam took over the task of breeding bees at Buckfast Abby. Brother Adam was working to make a strain of bee that was disease-resistant, a good honey producer and gentle. The key words in breeding Buckfast Bees is drone control.
Brother Adam made extensive journeys around the world collect breeding stock that matched his target bee characteristics. His efforts focused mainly on countries with distinct races of bees. A race of bees is akin to a breed of dogs. They have names like Italians, Russian, Cordovan or Buckfast. 
He travelled to isolated rural areas in the countries he visited to discover pure native strains. He even travelled as far as the Sahara Desert!
After many years of work, the result at the Dartmoor, England breeding station was the Buckfast Bee.
Brother Adam retired in 1988 at the age of 93. In 1996, he died in his 99th year.
NUCS  consist of 1 Buckfast queen one frame with honey 2 frames of brood and a foundation.  You should be able to get an average crop off this unit if well managed.  You have a choice of early last seasons queens or the present year queen.  It is just 2-3 weeks later.  2021 price is $250.00 pickup only. Prices subject to change
QUEENS  All our queens are from Buckfast stock.  We import Buckfast stock each year to keep the lines pure.  You have a choice of open mated from tested stock or open mated F1 from Danish stock.  $50.00 or $100.00.  Prices subject to change
Genetics
The tests performed are done by highly trained professionals in the Tech-Transfer Program
Hygienic Test Results 2016
Hive Number
% Uncapped
% Removed
Rank
32
100.00
91.4
1
51
96.39
90.55
2
27
97.75
88.26
2
54
100.00
84.65
2
Hygienic Test Results 2002
Hive Number
% Uncapped
% Removed
Rank
216
97.31
95.59
1
220
97.10
94.18
1
221
94.65
88.56
1
217
91.25
88.29
1
Hygienic Test Results 2018
Hive Number
% Uncapped
% Removed
Rank
13
97.65
95.37
1
11
97.01
93.31
2
20
100.00
91.37
2
6
90.03
84.19
2
In the early 1990s, Bill brought the Buckfast stock into the Ferguson Apiary operation. Change was immediately noticeable and he has never looked back. Buckfast bees:
are quiet and not aggressive!!
are gentle
have a low tendency to swam
winter in smaller clusters
have good tolerance to the trachea mite
Hygienic tests have dramatically improved bee quality. Working along with other Buckfast breeders and the Ontario tech transfer team ("bee girls"), we have been able to maintain a high quality stock. We continue to test the queens and our breeding hives. By doing this, we maintain the superior attributes expected by beekeepers who appreciate the quality of our queens. The continual selection of breeder queens means we are able to maintain quality queens and genetics. The luxury of having gentle bees to work with, along with the other great Buckfast bee characteristics, make beekeeping an enjoyable hobby or business.